Jeremiah and William Frazer - The Frazers of Granville County, NC
available in Hard Cover and Paperback
Jeremiah and William Frazer lived nearly 300 years ago, in the beginnings of Granville County. They are the progenitors of Frazier families in Granville County and vicinity, as well as many similarly named families around the country. Much of the information on Jeremiah and William themselves has been verified by reference to primary sources.

Fully name indexed. 254 pages.
Hard Cover
Cost - $25.00 + S&H
Paperback
Cost - $16.00 + S&H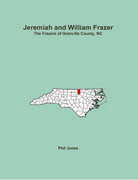 Order from:

GCGS Store at Lulu.com

Pay with credit card or debit card or by Paypal
Allow about 2 weeks for delivery from the Lulu printer.